4 bakeries found in Riverton
In the city of Riverton you will locate a total of 4 bakeries dedicated to several products: breakfasts, muffins, bread, cakes... Please review the list under these words to get a short preview of all bakers in this city. Each preview shows the bakery name and placement, their specialties, a short description and user's score (if any). You can also use the map on the right to situate the bakers.
Daylight Doughnut & Coffee Shop is a coffee house based in Riverton which is acclaimed for its donuts and more.
Would you like to buy diverse baking products in Riverton? Executive Sweets provides that and much more in this area. You will find them in 414 E Main St, Riverton, WY, 82501.
This bakery is situated in 335 Hursh St, Riverton, WY, 82501 and is providing bread.
Discover this bakery in 400 N Federal Blvd, Riverton, WY, 82501. In Golden Corral you'll eat custom cakes or breakfast.
Wildflour Bakery & Expressso is located in Lander, Riverton. This business offers to the customers food products with superb quality and at the best prices.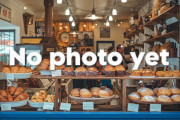 200 N 6th St, Thermopolis, WY, 82443
43.9 miles from Riverton
Grannys Bakery Ice Cream & Grill is placed in Thermopolis. This bakery sells to the public food specialties at inexpensive prices and with great quality.
Wyoming Sugar Company is placed in Worland, Riverton. This bakery offers to the customers baking products with high quality and at the best prices.
Sweetheart Bread Company is a bakery placed in Worland which is remarkable for its bread.
Wrangler Cafe is a coffee house situated in Pinedale where you can get food products.