Found 9 bakeries in New Britain
In the city of New Britain you can locate a total of 9 bakeries specialized in a lot of products: pies, bread, muffins, breakfasts... Check the list below to get a brief preview of all bakers in this city. Each preview shows the business name and placement, their specialties, a brief description and user's rating (if any). You can also use the map on the right to situate the businesses.
The restaurant and coffee house named Dunkin' Donuts, is situated in 118 E Main St, New Britain, CT, 06051 and it provides donuts, snacks and drinks.
Borinquen Bakery is placed in New Britain. This bakery offers to the public baking products with magnificient quality and at the lowest prices.
Want to get few food specialties in New Britain? Delectable Creations offers that and much more in this city. You will visit them in New Britain, CT, 06001.
Bakeries surrounding New Britain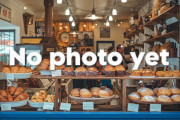 102 Liberty St, Newington, CT, 06111
2.3 miles from New Britain
Commercial Appliance Repair Inc is located in Newington, New Britain. This business offers to the customers food products with good quality and at the cheapest prices.
This coffee house is placed in 3243 Berlin Tpke, Newington, CT, 06111 and is offering desserts, breakfast, bread or pastries.
Visit this bakery in 2601 Berlin Tpke, Newington, CT, 06111. In Baskin Robbins you will buy cakes, pies, birthday cakes, custom cakes and donuts.
Fratelli's Luncheonete is placed in Newington. This bakery sells to the public baking specialties at the lowest prices and with high quality.
Mangiafico's Pastry Shoppe is a pastry shop situated in Plainville which is acclaimed for its pastries.
This healthy bakery is based in 500 South Rd, Farmington, CT, 06001 and is preparing birthday cakes and more.
Godiva Chocolatier is a bakery situated in Farmington which is recognized for its gourmet cakes.