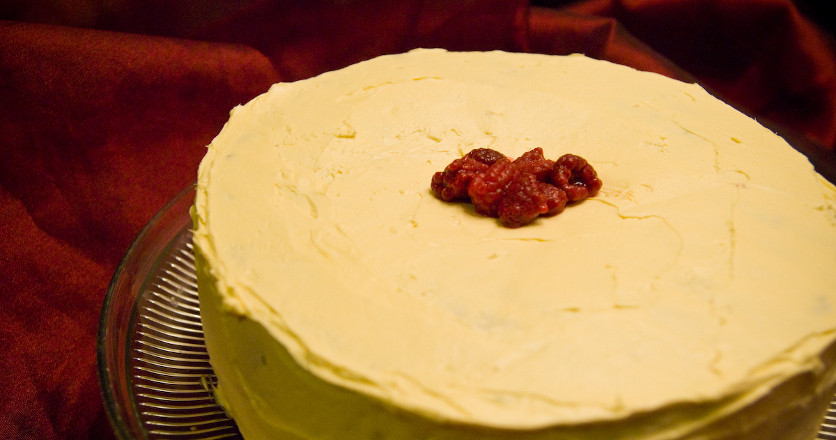 Ingredients
For the cake:

+ two cups plain flour
+ two spoons of vanilla extract
+ two cups of sugar
+ 450ml water
+ four eggs
+ two cups of self-raising flour
+ 1/2 kg of white chocolate
+ 400g of butter1 cup Milbona butter
For the frosting:

+ 600g white chocolate
+ 3/4 cup of thickened creamstep
Instructions
Prepare the oven at 150 degrees centigrade. In a rectangular cake pan, 22 cm long and 8.5 cm deep, grease with butter.
Now, you should mix the chocolate, butter and 450ml of water in a large bowl that can be put in the microwave. Heat in the microwave for 3 or 4 minutes at 100% power, stirring the mixture every minute, until everything is smooth.
Add vanilla extract and sugar to the previous mixture. Stir and mix well. Add the eggs and keep mixing. Finally, sift the two types of flour over the mixture and continue stirring until everything combines well.
Put the whole mixture in a baking dish and bake for a couple of hours. After this, reserve and let cool in the bowl. Then turn it carefully and wrap it in plastic paper and then in foil. Store in an airtight container at room temperature for 5 to 10 days.
Cut the cake in half using a serrated knife and put the base on a serving plate. Put a third of the cover on the base and make a "sandwich" with the top of the cake. Spread the rest of the cover over the top and sides of the cake. Reserve for a day so that it becomes solid. Then we can serve with fresh edible roses. Ideally, use a warm knife to serve this cake.
To make the white chocolate cover: mix the chocolate and the cream in a container that can be used in a microwave. A multimedia power for 2-3 minutes hot and stir every minute until everything melts.
Leave in the refrigerator for an hour, stir occasionally with a metal spoon, or until it thickens until it reaches a spreadable consistency.