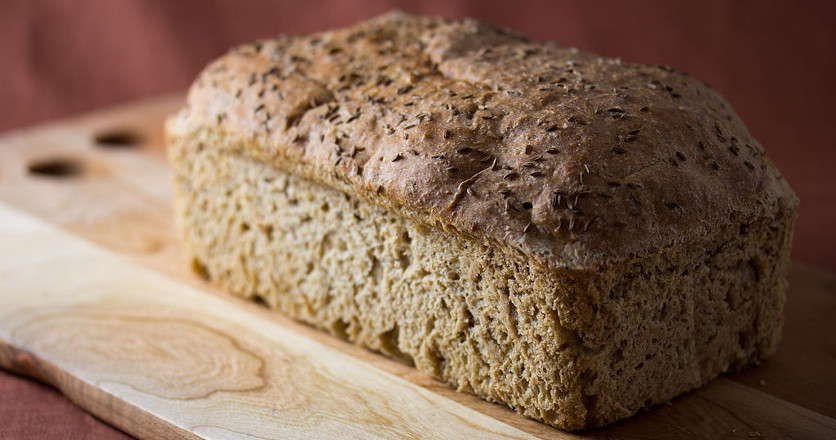 Ingredients

+ four cups of all-purpose flour
+ 1 and half cup of rye flour
+ 1 and half teaspoons of salt
+ two cups of warm water
+ some cornmeal for dusting
+ 1 and half tablespoons of yeast
+ 1 and half tablespoons of caraway seeds
+ a quarter tablespoon of cornstarch + a quarter cup water

Instructions
In a mixing bowl, mix the water, the levadora, the salt, the rye flour and the caraway.

Add flour to the mixture, 1 cup at a time, add the amount needed to form a ball of dough that does not stick to the sides of the container.

This dough should have a smooth texture, should not be too stiff, but consistent and not too sticky.

Move the dough to a large and somewhat greased container.

Then cover with a kitchen towel and let it stand for 1 hour.

During this time it will grow approximately up to twice its size.

To give it the shape of bread that we are looking for, you have to stretch the dough from the center towards the edges, first upwards and then downwards.

Try stretching several times with your thumbs until the dough looks like a delicious little loaf.

Now we take the corn flour and scatter a little on a wooden cutting board.

We put the bread on this board and let it stand approximately 40 minutes.

At this point we have to preheat the baking stone to 450 degrees.

Then we will put an unprofitable tray on the rack under the baking stone

Mix the cornstarch with water with a little water in a bowl and microwave for 45 seconds.

With the corn starch liquid and a kitchen brush, we distribute it over the top of the bread and make several parallel cuts with a knife.

The bread must be baked directly on the preheated stone.

When placing the bread, pour a glass of water into the container below.

Be careful with your hands at this time, as it can sizzle and release hot steam.

Leave to bake for half an hour.